---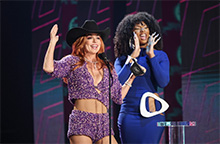 Here Are the 2023 CMT Music Awards Winners
Billboard.com
The fan-voted CMT Music Awards have come and gone for 2023! This year, the event was held at Austin's Moody Center, and aired live on CBS, while streaming live on Paramount+ on Sunday, April 2.

Lainey Wilson led in nominations with four, while Kane Brown, Jelly Roll and Cody Johnson are right behind her with three. (Jelly Roll was victorious in all of his categories.) In the days heading into the ceremony, Shania Twain was announced as the recipient of the CMT Equal Play Award, which celebrates artists who are advocates for "elevating diverse and underrepresented voices in country music," according to the CMTs. She is the third artist to receive the honor, whose previous winners were Jennifer Nettles and Linda Martell.

Brown and Kelsea Ballerini co-hosted the event, which featured performances from Blake Shelton, Carrie Underwood, Keith Urban and many more. Presenters included Megan Thee Stallion, HARDY, Noah Schnapp, Travis Kelce and others.
Video of the year
Carrie Underwood – "Hate My Heart"
HARDY feat. Lainey Wilson – "wait in the truck"
WINNER: Kane Brown & Katelyn Brown – "Thank God"

Female video of the year
Carly Pearce – "What He Didn't Do"
Carrie Underwood – "Ghost Story"
Gabby Barrett – "Pick Me Up"
Kelsea Ballerini – "Heartfirst"
WINNER: Lainey Wilson – "Heart Like A Truck"
Maren Morris – "Humble Quest"
Miranda Lambert – "Actin' Up"

Male video of the year
Bailey Zimmerman – "Rock and A Hard Place"
Cody Johnson – "Human"
Cole Swindell – "She Had Me At Heads Carolina"
WINNER: Jelly Roll – "Son Of A Sinner"
Kane Brown – "Like I Love Country Music"
Luke Combs – "The Kind Of Love We Make"
Morgan Wallen – "Wasted On You"

Group/duo video of the year
Dan + Shay – "You (Performance Video)"
Lady A – "Summer State Of Mind"
Little Big Town – "Hell Yeah"
Parmalee – "Take My Name"
The War And Treaty – "That's How Love Is Made"
WINNER: Zac Brown Band – "Out In The Middle"

Breakthrough female video of the year
Avery Anna – "Narcissist"
Kylie Morgan – "If He Wanted To He Would"
MacKenzie Porter – "Pickup"
WINNER: Megan Moroney – "Tennessee Orange"
Morgan Wade – "Wilder Days"
Tiera Kennedy – "Found It In You"
---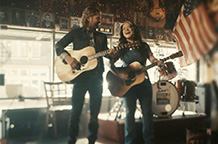 First Country: New Music From Dierks Bentley, Ashley McBryde, Shania Twain, Corey Kent & More
Billboard.com
Dierks Bentley with Ashley McBryde, "Cowboy Boots"
"They ain't broke in until they've broke a few horses and some hearts," Dierks Bentley sings in this sentimental ode to trusty, dusty old boots. Joining Bentley is is another superb, rootsy-warm vocalist, Ashley McBryde. Together, they bring all out the best nuances in this track, which is included on Bentley's upcoming album Gravel & Gold, out Feb. 24.
Shania Twain, Queen of Me
Shania Twain returns with the album Queen of Me, her followup to 2017's Now. Here she nods to the current culture's fervent nostalgia for '90s music — both pop and country. With three top 10 hits on the Billboard Hot 100 ("You're Still the One," "That' Don't Impress Me Much," "From This Moment On"), Twain has been one of the foremost architects of the ear-catching, euphoric pop-country blend, and brings to this new project a continuation of the peppy, empowering messages (see songs such as inescapably danceable "Giddy Up!" and "Not Just a Girl"), layered over staunchly pop productions that legions of fans have come to expect. Given her battle with health issues including Lyme disease and dysphonia, Twain's vocal does sound different than her projects from the mid-'90s, but she uses her voice's newly gritty texture with great impact, as it lends an added toughness to her defiant, triumphant storylines such as "Brand New" and "Queen of Me."
Morgan Wallen, "Everything I Love"
Leading up to the March 3 release of his upcoming massive, 36-track album One Thing at a Time, Wallen released three new songs this week: "Last Night," "Everything I Love" and "I Wrote the Book." "Everything" is the most traditional country of the three, holding on to his country/rock/hip-hop hybrid, while incorporating a '70s Allman Brothers vibe — and the the lyrics offer a direct nod to the Brothers' classic "Midnight Rider" on the lyric, "We were listenin' to 'one more silver dollar'/ Hanging out in my Silverado."
4Runner, "Ragged Angel"
This group first signed with Polydor in 1995, released their debut track "Cain's Blood" and earned follow-up hits. Years later, they disbanded to raise their respective families. But now, they return with their first release in nearly two decades, on a reimagined version of a song they first released in 2004 — and a new baritone singer, with lead singer Craig Morris' son Sam. In that time, it's clear the group's Eagles-esque, full-bodied harmonies are perfectly intact on this uplifting and buoyant track, which feels like a perfect throwback in an era filled with nostalgia for 1990s and 2000s country sounds.
Charles Wesley Godwin, "The Jealous Kind"
Godwin's scruffy voice offers bone-baring honesty on this cover of Chris Knight's "The Jealous Kind," accompanied by cool piano licks and haunting bass lines. He and his band kick up the tempo, leaning into the urgency reverberating through the song's storyline, detailing a guy outrunning the law to reach his wayward lover.
"I never drove two days through the pouring rain just stopping for coffee and gas," he sings. "Never outrun the law on the interstate/ Didn't know this thing'd go that fast … but there's always a first time."
---
Album Review: Luke Combs 'Growin' Up'
Billboard.com
Combs tries adulting on for size — and finds he likes it. On his Grammy-nominated third studio album, Combs arrives on the other side of 30 and decides to "dig into this life thing," as he told Billboard earlier this year. With his trademark husky twang, Combs looks at regrets on ballad "Tomorrow Me" and the spirited "Outrunnin' Your Memory," a duet with Miranda Lambert. Meanwhile, long-term commitment works well for Combs on "The Kind of Love We Make," while he serves up a love letter to his fans on "Doin' This," about how he would still be performing no matter how many –or few — people showed up. Though largely autobiographical, Combs looks at life's milestones through a lens relatable to all.
Rollingstone.com
Luke Combs wants you to know one thing: He's a regular guy. He might be playing songs that immediately become playlist staples, but those ballads and rockers are, he maintains, the same ones he'd be playing if he were only outfitted with, as he croons on the opening track of his third album, Growin' Up, "tips in a jar, my guitar, and an old barstool." The 32-year-old North Carolinian, reigning Country Music Entertainer of the Year, stadium headliner, and holder of multiple platinum records, is trying hard to not be starstruck by his own success. Mostly, it works.

While similar claims of humility from megastars can come off as a bit far-fetched, the dozen songs on Growin' Up bear out the just-from-the-heart assertions that appear on the slow-burning "Doin' This." Combs adds just enough modern-day brawn to Nashville songwriting ideals to make the LP an enjoyable, and at times moving, spin through his world of small-town bars and big-hearted people.

On Growin' Up, these classic country topics are elevated by Combs' vocals. His robust, rough-edged tenor adds a warmth to his nostalgia-drenched songs, like the road-not-taken chronicle "Used to Wish I Was," as well as the references to the songs and artists he loves, like Garth Brooks and George Jones.

"Any Given Friday Night," which in lesser hands would be a run-of-the-mill bro-country ode to small-town weekend bacchanalia, gets its power from Combs' obvious affection for those who pregame in DQ parking lots in "pick a map dot town[s]," as well as grime-caked guitars that hint at the messiness awaiting those revelers in the later hours. Those riffs are part of Growin' Up's sonic maturity; its spacious production, helmed by Combs alongside co-producers Chip Matthews and Jonathan Singleton, allows guitar licks and thumping bass lines to tug songs in sometimes surprising directions.

"The Kind of Love We Make," a gently urgent come-on to a woman who's been too stressed-out to let loose in the bedroom, is a country revamp of midtempo Nineties alt-adult cuts like Semisonic's "Secret Smile"; the rave-up "Ain't Far From It" depicts one of the dates that could eventually lead to those moments of committed bliss, with Combs' flirtations egged on by honky-tonk pianos and saucy licks.

Combs isn't reinventing Nashville's four-wheel clichés on Growin' Up; he's merely giving it a fresh coat of wax and removing the more ostentatious add-ons. But his detail-rich songs make Growin' Up a big-time country album with a tip-jar-worthy intimacy.
---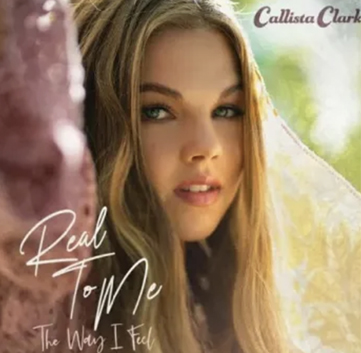 Album Review: Callista Clark 'Real To Me: The Way I Feel'
holler.country/reviews
entertainment-focus.com/If Callista Clark seems too complicated, as her song says, it's 'cause she is. An old soul who hails from Zebulon, Georgia, yet somehow also a teenage sensation, the 18-year-old has managed to attract the cream of Nashville's songwriting crop to co-write across 10 songs on this debut album, with ace producer Nathan Chapman adding punch, pulse and polish.

Loads of potential singles jump out across the record, from the acoustic flavours of 'Worst Guy Ever' to the bolder, deliberately uplifting 'Brave Girl' – written when she was only 15 herself – providing something for existing fans and new followers alike. The latter, signature song encourages her listeners to "Say what you wanna say, say it like you mean it / You're gonna be okay even if you don't believe it."

There's a soulful core and delightfully snappy word-smithery running across all the tracks, giving freshness to eternal concerns like break-ups ('Heartbreak Song' and 'Gave It Back Broken') and moving on, ('Don't Need It Anymore' and 'Sad'). The album is neatly bookended with two key statement songs, 'It's 'Cause I Am' up top and the hook-laden title track 'Real To Me' rounding things off.

Real to Me: The Way I Feel definitely gains this the Holler seal of approval. Buoyed up by characteristically powerful vocals, memorable songs and the rare knack of knowing how to relate to and empower her fellow teens, for Callista Clark, the only way is up.
Album Review: Callista Clark 'Real To Me: The Way I Feel'
entertainment-focus.com
Sometimes it's hard to believe that Callista Clark is still only just 19 years old. The Georgia native began writing songs aged 11, has performed alongside the likes of Jennifer Nettles and Chris Young, and wowed audiences on this side of the pond when she made her UK debut at C2C earlier this year. Now she's back with her long-awaited debut album, 'Real To Me: The Way I Feel', which follows the EP she released last year.

The 10-track record opens with Clark's debut single, 'It's 'Cause I Am'. It's a swaggering, playful song which shows off the richness in Clark's voice as she dismisses an immature love interest, with a huge empowering chorus. I loved how the song oozes with confidence and the rocky touches to the production add a nice touch too.

That range of songs is one of the big selling points of this record, with Clark drawing on elements of rock and pop as well as country. 'Change My Mind', a twangy, heavy track with sassy lyrics balancing out Clark's sweet vocals and a big soaring chorus, put me in mind of early Carrie Underwood, whilst the anthemic 'Heartbreak Song' sees her voice almost floating over the driving drumbeat before breaking into some serious belt! Elsewhere, the acoustic-led 'Worst Guy Ever' feels like a country-fied take on Beyoncé's 'If I Were A Boy', as Clark sings about a guy not treating her right. I loved the little lyrical details (particularly 'letting other girls steal your sweatshirt') and the contrast between her soft tones and the song's low-key cutting message – it wouldn't have sounded out of place on one of Taylor Swift's first records.

However, where Clark really shines is on the ballads. The bittersweet 'Gave It Back Broken' is an early standout, with Clark showing off her vocal range – including some impressive high notes on the chorus – and a real sense of maturity as she calls out an ex. Meanwhile, 'Don't Need It Anymore' mixes pop elements with a big pre-chorus that sees Clark barely conceal the anger at her heartbreak, before descending into a sense of resignation and despair. It's something even more established artists would struggle to deliver and I feel she pulls it off really well.

For me the standout track is current single 'Brave Girl', another piano-driven ballad featuring snippets of young women feeling held back or needing to change themselves, with Clark encouraging them to believe in themselves and embrace their flaws. The message of self-confidence comes through really strongly and I found the song very moving overall – it's one that's going to sound fantastic live with a crowd singing it back to her. I also loved 'Wish You Wouldn't', which sees Clark singing about being drawn back into a relationship she knows isn't great for her. The song has a great soulful quality and a retro 90s vibe – almost Mariah Carey-esque – as well as gorgeous delicate vocals, with a great blend of a piano melody and drum beats layered over the top.

After the bright, bouncy kiss-off anthem 'Sad', with its cheeky spoken word intro and funky groove, the album closes with the title track, which talks about Clark's youth and how her experiences are just as real as anyone's despite her age. The sparse arrangement makes the smooth quality of Clark's voice stand out as she runs the gamut from delicate high notes all the way to fantastic runs, whilst the layered instrumentation builds from a sparse intro all the way to a powerful finish with rocky guitars. It has great emotional power and feels like it sums up the whole collection perfectly.

Overall 'Real To Me: The Way I Feel' is a solid debut album that draws on pop, rock and country influences, with some fantastically detailed songwriting and outstanding vocals from Clark. It's a project that feels incredibly authentic and is full of heart and soul, with a great sense of storytelling running through the whole thing – by the end of it all, you feel like you've gone on a complete emotional journey with her. I'm really excited at how Clark is exploring her sound on this record and where she is musically right now, and am looking forward to seeing where she goes next.
---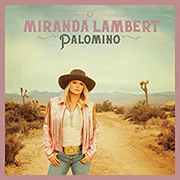 The Strange Times of Miranda Lambert and Her 'Palomino'
Popmatters.com
Miranda Lambert's Palomino is a damn fine record with 15 tales of love and the American Dream in her trademark powerful, declarative yet tender voice.
Country music superstar Miranda Lambert's latest album, Palomino, is a damn fine record. The singer-songwriter offers 15 tales of love and the American Dream in a robust, declarative yet tender voice. Life is a carnival, Lambert suggests. Her narrators may be chasing a gold ring but not a wedding band in their search for happiness. They want something more out of life, even if they don't know what it is, and they are usually anxious to move on in search.

Lambert frequently sings in the first person, so we identify her with these restless women. That makes for deliciously gossipy fun reading between the lines about her marriage and divorce. It doesn't matter if Lambert is truthful or therapeutic in her songs. Her ability to express her feelings as if they convey some profound truth counts more. "Times like these make me feel strange," Lambert sings, and who doesn't and hasn't felt weird the last few years. By conveying this in the first person, we all become the "I" of the songs. The point is we are all in this together, alone.

That's especially true if one is female. Lambert is everywoman. The men depicted on this record are not necessarily evil or bad but can be just as lost as the women. Some women have made it big, Lambert knows on the bragging "Country Money", but she doesn't necessarily see the world in such binary terms. The lyrics to such songs as the buoyant "Music City Queen" (which features guest vocals by the B-52s) celebrate gender diversity. Lambert's nod to the sexism she has encountered in "If I Was a Cowboy" clarifies that she sees no difference between the genders in terms of talent and abilities. "So mamas, if your daughters grow up to be cowboys, so what" she sings, echoing Waylon Jennings and Willie Nelson.
---