---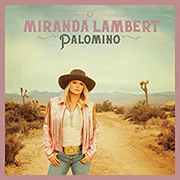 The Strange Times of Miranda Lambert and Her 'Palomino'
Popmatters.com
Miranda Lambert's Palomino is a damn fine record with 15 tales of love and the American Dream in her trademark powerful, declarative yet tender voice.
Country music superstar Miranda Lambert's latest album, Palomino, is a damn fine record. The singer-songwriter offers 15 tales of love and the American Dream in a robust, declarative yet tender voice. Life is a carnival, Lambert suggests. Her narrators may be chasing a gold ring but not a wedding band in their search for happiness. They want something more out of life, even if they don't know what it is, and they are usually anxious to move on in search.

Lambert frequently sings in the first person, so we identify her with these restless women. That makes for deliciously gossipy fun reading between the lines about her marriage and divorce. It doesn't matter if Lambert is truthful or therapeutic in her songs. Her ability to express her feelings as if they convey some profound truth counts more. "Times like these make me feel strange," Lambert sings, and who doesn't and hasn't felt weird the last few years. By conveying this in the first person, we all become the "I" of the songs. The point is we are all in this together, alone.

That's especially true if one is female. Lambert is everywoman. The men depicted on this record are not necessarily evil or bad but can be just as lost as the women. Some women have made it big, Lambert knows on the bragging "Country Money", but she doesn't necessarily see the world in such binary terms. The lyrics to such songs as the buoyant "Music City Queen" (which features guest vocals by the B-52s) celebrate gender diversity. Lambert's nod to the sexism she has encountered in "If I Was a Cowboy" clarifies that she sees no difference between the genders in terms of talent and abilities. "So mamas, if your daughters grow up to be cowboys, so what" she sings, echoing Waylon Jennings and Willie Nelson.
---
Album Review: Jason Aldean 'That's What Tequila Does'
Todayscountrymagazine.com
Jason Aldean is one of country music's biggest male artists today, but a large part of that is because of his ability to find a comfort zone within his style from era to era, while continually elevating the unique attributes that he brings to the table.

That's exactly what he's done again with his new single "That's What Tequila Does," the follow-up to his 27th #1 song "Trouble with A Heartbreak."

The song, written by Kurt Allison, John Edwards, Tully Kennedy and John Morgan is lifted from the Macon half of his Macon, Georgia double album, and sees Aldean sitting in the familiar pocket that we've come to expect from his distinct sound as it pushes a pop laden backbeat into a slow groove that allows his voice to carry the lyric through the first verse as we see him choosing his drink of choice – tequila – even though he knows it'll ultimately destroy him in his attempt to get over the memory of lost love.

Knowingly, he sings in the opening verse of how drinking tequila will always get him overthinking and stirring up every memory she's left him to deal with, while during the second verse he shows how having a little more than just enough will always get him checking his phone and looking for a text from her that never comes in.

The chorus punches the energy level up a notch as is par for the course with Aldean's latest material, but his vocal is perfectly suited for carrying the pain and emotional hit of confusion that has come amid his drinking as we experience while he runs through a list that admits all the different ways that tequila has made his thinking a little warped:

"It'll make you think that you got a shot at the one that got away when it goes down
She's gonna tell you, she's gonna come back and that's what makes you stay for another round
Keep you stickin' around, keep pourin' out
Until she's all you're thinkin' 'bout
It'll keep you hung up, keep you drunk on what it was
Man, that's what tequila does"

Though drinking away heartache is certainly nothing new to country music, by shifting the focus of the lyrics to show how it can torture you and trick you into thinking in different and dangerous ways, Aldean provides a fresh perspective to the old idea.

Any song released right now from Jason Aldean is obviously going to have an immediate impact at country radio, but the overall feel of this song also tells us that it will make a great addition to his setlists, making it one of the highlights night in and night out on his upcoming Rock N' Roll Cowboy Tour.
---
Album Review: Kacey Musgraves 'Star-Crossed'
pitchfork.com
In July of 2020, Kacey Musgraves and fellow singer-songwriter Ruston Kelly announced their divorce, after two and a half years of marriage, via a joint statement that called the couple's love "a soul connection that can never be erased." Musgraves isn't shying away from her real-life breakup in her music either, telling one recent interviewer that the follow-up to 2018's brilliant pop-country bliss-out Golden Hour will be a full-fledged "post-divorce album, bursting the fucking bubble." The first song to arrive from her newly announced album Star-Crossed is the opener and title track, which seems to float in the air significantly, leaving the impression that maybe later tracks are where she'll come in with a sharp pin.

The rollout for Golden Hour began with a double A-side that included another leisurely song with interstellar imagery and a breakup theme, the stunning, wickedly punning "Space Cowboy." By contrast, "star-crossed" feels less like a single than an introduction, partly because so much of it is introduction: It takes 45 seconds of mournful oohs and flickering classical guitar before Musgraves sings, "Let me set the scene." What follows is a fairly literal recounting of a divorce, with papers signed, possessions divided, names changed. By the time the song gets interesting, it's already almost over, as Musgraves repeats the titular Billy Shakespeare phrase over the type of burbling synths that might leave the Weeknd gasping. She explained to another interviewer that to be star-crossed is "to be fucked by love or luck," but she withholds her usual cleverness and no-bullshit persona here; as introductions go, it's tantalizing and a little befuddling.
---
Album Review: Morgan Wallen 'Wasted On You'
Todayscountrymagazine.com
There may be no more controversial artist in country music today than Morgan Wallen. Similarly, there may be no more popular artist on the circuit either, as the Big Loud Records recording artist is on fire, with accolades, awards, and fans growing by the minute it seems.

Wallen's latest release, "Wasted On You", is his fourth radio single from his 'Dangerous: The Double Album', released in January 2021. The song has already been certified 2X Platinum, having reached the top spot on the Billboard Hot Country Songs chart, debuting there after the release of the album.

The song is a heartbreak ballad, pure and simple, as it finds Wallen reflecting on his inability to "get over" his ex. The intricacy of the lyrics, however, present another subject line, as well, as he comes to the realization about how much time and money that he wasted on a relationship that didn't last.

For country music fans that don't like Morgan Wallen – you won't like this song.

For country music fans that love Morgan Wallen – you will love this song.

It finds the singer-songwriter right in his wheelhouse, where he has been on this entire double album from last January. Co-written by Morgan along with Josh Thompson, Ernest K. Smith, and Ryan Vojtesa, this song a crooning ode to a love gone bad, finding an internal conflict (longing to find balance) between bitterness and sadness.

"I've wasted on you
All of this time and all of this money
All of these sorrys' I don't owe you honey
All of these miles on this Chevy and prayers in a pew, all them days
I spent wasted on you
Wasted on you"

Fresh off his ACM award for Album Of The Year, Wallen is on the road throughout the spring, summer and into the fall on his nationwide "The Dangerous Tour", as well as appearances at some of the biggest country festivals of the year.
---
Album Review: Willie Nelson's 'That's Life'
soundslikenashville.com
A common thought you hear expressed from songwriters when they record a song written by someone else is "I picked that song because it sounded like something I had lived," or that the song was "like something I would've written." Such sentiments are surely the steam that powered country music icon Willie Nelson when he picked songs for his second Frank Sinatra tribute collection, That's Life.

The follow up to Nelson's 2018 Sinatra-inspired album My Way, comes only a few months after the Red Headed Stranger's latest, excellent album of original material, 2020's First Rose of Spring. Thanks to the boldly vulnerable, expertly translated results of That's Life, it seems as though the only thing more reliable than Nelson's ability to churn out one fine record after another is his undying affinity for the jazzy pages of the American Songbook.

For younger country music fans, or for the uninitiated at any age, the notion of Nelson singing Sinatra songs might sound a tad offbeat, but its anything but. Sure, Nelson has long involved himself in some head-scratching collaborations, but for the most part, Nelson has been nothing short of triumphant in terms of working with artists from outside of the country genre. And when it comes to classy pop standards or jazz-inflected efforts, Nelson is nothing if not a grizzled veteran.

Long before he recorded that initial Sinatra tribute record, the Country Music Hall of Famer recorded a killer record with famed jazz bandleader Wynton Marsalis in 2008. And of course, Stardust, the transcendent 1977 LP featuring Nelson's favorite 20th century pop standards including his take on Irving Berlin's "Blue Skies," cemented Nelson as a skilled boundary-hopping recording artist a generation ago.

When viewed through not only Willie's pop crooner filter, but with the understanding that much of his recent albums deal heavily on the meditation of his own mortality, That's Life immediately carries more weight than a typical tribute record often will.

It's not that Nelson has turned this into a gloomy, moody record. Many of the songs are rather playful and have been treated by Nelson and producer Buddy Cannon as such. The album opening "Nice Work if You Can Get It" is a jaunty piano-led number, while "Just In Time" is a jazzed-up, lounge-ready tune where Nelson capably hits a few higher notes than he's attempted on his own recent records.

Although "I've Got You Under My Skin" and "Luck Be a Lady" also fit into the jolly side of the emotional scale, Willie's voice doesn't quite keep up with the more up-tempo arrangements. A better vehicle for Willie's current state of vocal abilities is the title track, where Nelson's trademark behind-the-beat phrasing fit brilliantly with an elegant electric guitar going for a brisk walk alongside him.
On the lower, slower end of the street lies the dimly lit dive bar where the lonely piano tune "Wee Small Hours of the Morning" would be well suited. One listen to the lush orchestration of "Cottage For Sale" will bring to mind those signature black and white photos of Ol' Blue Eyes singing into the mic at Capitol Studios with dozens of seated orchestra musicians surrounding him.

On top of blaring brass and a gently galloping piano, "You Make Me Feel So Young" offered the peek into the sunset we've seen in the past few Nelson records. Closing out the record, "Lonesome Road" begins as a Sinatra-style mortality tune, but beautifully veers into a flourishing gospel vibe, for an ideal Nelson-tinged coda.

At this point in his remarkable career, it would be missing the point to compare any of Nelson's releases to other modern country efforts. The question isn't whether or not this album is a fine record—although it is. The only question that matters now is does this album warrant a place in the collection of the Willie Nelson fan, and that answer is a rather easy yes.
---