Craig Powers is Cameron Broadcasting's VP, Operations. Craig has been a Radio Personality and Program Director in Southern California for the last 25 years at Top 40 KIIS FM/Los Angeles, Top 40 KEZY FM/Anaheim, Country KIK FM/Anaheim and at CBS Las Vegas's Adult Hits/Classic Rock Jack FM. Craig also spent 5 years with Curb Records traveling with Tim McGraw, LeAnn Rimes, Hal Ketchum, Wynonna and many other Country Artists. Craig also spent time at Top 40 KIIS FM in Los Angeles on the air and hosting their famous weekend warm-up parties with Rick Dees. Craig hosted and emcee'd hundreds of events, shows, commercials, concerts, cable and TV shows in Southern California and Las Vegas and has done over 1000 remotes, appearances and live broadcasts.
So what brought him to the Tri-State area? "I always came to the lake and river for 3-day weekends and vacations, for as long as I can remember, so it's like being on vacation actually living here full time now! I can't tell you how much I enjoy the area from antiques and the beautiful mountains of Kingman, to The Cameron Broadcasting Party Pontoon in Havasu, Laughlin and the river! It just doesn't get any better!"

Favorites:

Wife: The second one, she's my dream girl!

Dog: My Golden Retriever Jake who is 15 years old.

Place: Sunset on the River or Lake. Kauai is my second pick though.

Food: Cheeseburgers, fries and a shake.

Boat: Pontoon (Fast enough to ski behind) and my Jet-ski's! Vroom!

TV Show: Survivor, American Idol, Big Brother, the Antiques Road Show, Bob Villa.

Movie: Indiana Jones, Star Wars, City Slickers.

Music: Country, Classic Rock and Top 40 of course!

Place to live: The Tri-State area! I love the River, the Lake and Kingman!

Hobbies: Golf, Tennis, Boating, Tools, and fixing anything!

Vacation: Alaska or Hawaii

Weather: Monsoon season in the Tri-State.

Website: Craigslist (Of course!)

Language: Speak English please!

Miffs: People who use bad grammar. Yuk!

Stuff to do: Radio, Jetski, Boating, Golf, Driving, Teaching, Writing, Dancing, and being a smart ass.

Heroes: My Dad, John Curb, Mike Wagner, Gaylon Adams, Juanito Calderone, Steve Palmer, Tom Humm and Charlie Tuna!

Sports: Golf, Tennis, Baseball

Video games: Wii Bowling and Golf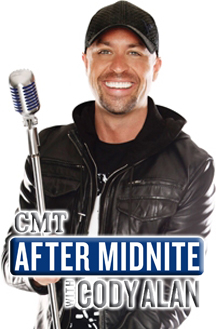 CMT After Midnight with Cody Alan
Midnight - 6:00am Monday - Sunday
CMT After MidNite with Cody Alan keeps listeners tuned in all night with Country music's biggest names and popular CMT radio and TV host Cody Alan's engaging personality. Designed for overnights and built to jump-start your morning show, CMT After MidNite is the ultimate overnight show, offered 7 days a week!
Cody Alan is one of the most recognized names in radio with more than 20 years' experience on the air, and winner of two ACM Awards for 'National Personality of the Year.' On TV as host of CMT Hot 20 Countdown, listeners hear directly from Cody, who is always tapped into the latest in Country music and entertainment. Reaching nearly two million weekly listeners on more than 200 radio stations, CMT After MidNite with Cody Alan is the ultimate destination for industry stars, fans and listeners. The stars come to Cody Alan and to give fans the hottest interviews. Because of this dynamic, CMT After MidNite with Cody Alan gets Country's A-list stars in studio.